Audrey at Home
Audrey Hepburn's son Luca Dotti's new book Audrey At Home: Memories of My Mother's Kitchen tells the story of his mother's life through food and recipes — specifically, her recipes... Although she had instructions for "impressive and ambitious dishes ... these never made their way to our dining table. For, in the kitchen, as in life," writes Dotti in the book's introduction, "my mother gradually freed herself from everything that was superfluous, to keep only what truly mattered to her."
The book, which the author calls "a kitchen table biography," offers an intimate look at Hepburn's life and passions, particularly her family, her garden, and her work with UNICEF. But at its heart, Audrey at Home is a traditional family cookbook, with recipes passed down through generations, collected from friends, and compiled as a fitting tribute to a loving mother by her son... This book is a labor of love!
The iconic actress liked to treat herself with good, fresh food, and so I shall conclude that what Hepburn liked to cook and to eat was a reflection of her experiences, her preferences, and her life. She embraced her role as a housewife, a mother, a wife, once saying, "It's sad if people think that's a dull existence, but you can't just buy an apartment and furnish it and walk away. It's the flowers you choose, the music you play, the smile you have waiting. I want it to be gay and cheerful, a haven in this trouble world."
Hepburn kept a rigorous schedule, often waking up around 4 or 5 in the morning to go over her lines and get her strength up for the day. But every morning, she ate her breakfast, often a caffe latte and a madeleine, and according to Dotti, "She never skipped it, not even on her monthly 'detox' day when she ate only plain yogurt and grated apple."
One of the small luxuries Hepburn would afford herself was breakfast in bed on Sundays, with "homemade madeleines, quince jelly, or cherry jam, along with toast, coffee, milk, butter, a small rose from the garden in a tiny vase, and on the side of her tray the International Herald Tribune."
Hepburn believed chocolate "helped 'banish sadness,'" but chocolate also held a special place in Hepburn's heart and memories. She grew up in Nazi-occupied Amsterdam, and by the time the liberating forces came in 1945, over 22,000 of her fellow Dutchmen had died of starvation. Hepburn herself "was sixteen years old, stood almost five foot six, and weighed eighty-eight pounds." Near the end of the war, a Dutch soldier gave her seven chocolate bars which she instantly devoured but the felt sick. But still, "That moment remained the most vivid memory of the joy of liberation." The love for chocolate lasted with Hepburn, and every evening, she had a little chocolate. One of her signature desserts was a flourless chocolate cake, the recipe is included in the book and I posted it for you below, which she regularly baked for her sons' birthdays and other family celebrations.
La Paisible was Hepburn's home in Switzerland, and it was there that she lived her dream of a country home with a full garden. "At La Paisible the seasons thus began to dictate the composition of our meals, with the exception of Mum's favorite sauce: Giovanni [the gardner] would pick the tomatoes in early July and freeze them whole, so they would be available throughout the year."
Dotti explains, "Mum was convinced that a good medley of colors was fundamental for all dishes. 'It isn't very interesting to eat something that is completely white,' she would argue, 'so it also can't be that good for you.'" This principle held as true with Hepburn's homemade curries as it did with her spaghetti alla puttanesca, which has a "vivid contrast of colors in the sauce (violet olives, green capers, red tomatoes, golden oil)."
Hepburn wasn't afraid to put her own twist on traditional dishes. A story I liked was... while staying in the Swiss Alps, she was determined to make pesto, a fussy dish "that requires patience and discipline and tolerates no compromises with the raw material or the utensils that are used." Hepburn couldn't find enough basil so replaced it with parsley. Dotti writes, "Mum's pesto has an entirely different character... The alternative cannot help but be a strange foreign blend." But everyone ends up asking Dotti for the recipe, which is also included in Audrey At Home.
The cookbook features recipes such as vichyssoise, osso buco, spaghetti al pomodoro, madeleines, and quince jelly. But the recipe that really got Hepburn excited was also one of her easiest recipes: baked stuffed potatoes. "She would cook them in the oven and everybody would fill them up the way they want," said Dotti. "[Her favorite meal was] pasta with tomato sauce. This was always everywhere, when she was coming home from a trip. Pasta with tomato sauce may sound easy, but to make it well is difficult, and no two results are always the same. Tomato sauce is not only tomatoes. Maybe with a little bit of potato, or carrot."
If you would ask me why Audrey was Audrey, I'd have to quote the book and say...
"She had more than a positive outlook. She was naïve in the sense that she was like a young girl. Every time that she found something new, or went to a market, or got a new recipe, she wasn't blasé. She was so excited, like a little girl. She took life by the day. … She never sounded panicked by the idea of being sick. She was more worried about others, about us, about the kids. … My mother, she was really interested in living the day. She was very interested in life. Even when she was in bed, she was saying oh, when I get better, we have to go to Australia. It's beautiful there."
With that I give you a taste of Audrey...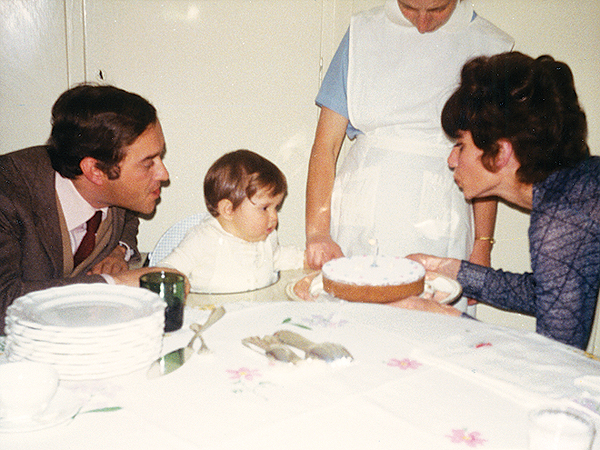 Audrey Hepburn's Chocolate Cake
Serves 8 to 10
11 oz. unsweetened dark chocolate, chopped
¼ cup whole milk
1 stick unsalted butter, cut into small pieces, plus extra for greasing
8 eggs, separated
1 cup sugar
Flour for pan
Powdered sugar
1. Preheat the oven to 400°. Butter and flour a 10- or 12-in. round baking pan.
2. Melt the chocolate with the milk in a bain-marie (a heatproof bowl set over a saucepan of simmering water). Add the butter and stir to blend thoroughly. Turn off the heat and add the 8 egg yolks, and mix.
3. In a separate bowl, gradually add the sugar to the egg whites and whip to form stiff peaks. Gently fold into the chocolate-egg yolk mixture. Pour into the prepared pan.
4. Bake for 30 minutes. Turn off the oven, open the door, and leave the cake inside for a few minutes (this will prevent the crust from cracking). Remove from the oven and cool for about 10 minutes before removing from the pan. Cool completely before serving. Sprinkle with powdered sugar and serve with whipped cream or vanilla ice cream.
Bon Appétit